Applications Open For The 2022 Cohort Of The Tentacle Zone Incubator For Underrepresented Founders
By The Noisy Communications Team on behalf of Payload Studios on 10/02/2022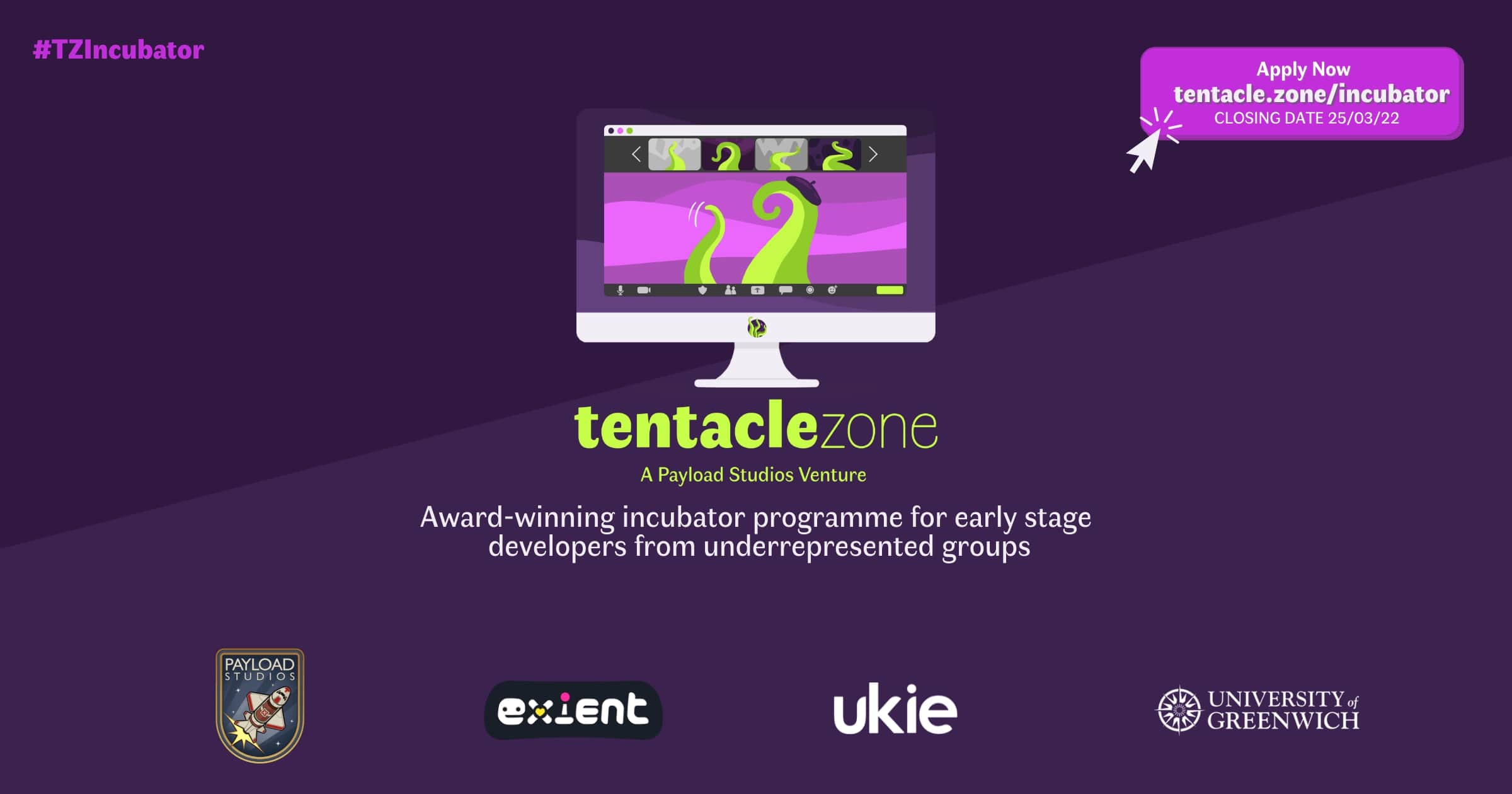 Payload Studios today announced that applications are open for the 2022 virtual Tentacle Zone Incubator for early stage developers from underrepresented groups. Applicants are encouraged from the UK, Europe, Africa, Asia and the Middle East, between the GMT and +4 hours time zone.
The Tentacle Zone Incubator first launched in 2021, with twelve developers being awarded a place on the programme. The incubator went on to win numerous awards including the TIGA Diversity Award, MCV's IRL Diversity Champion Award, and was a finalist in the 2021 Develop: Star Awards.
This year's incubator will expand on the success of the 2021 programme, offering places to early stage developers from underrepresented groups, including but not limited to, POC, lower socioeconomic backgrounds, LGBTQ+, underrepresented genders, people with disabilities and neurodiversities. Applicants should be working on their first game and need focused support and networks to help take their game and business to the next stage.
The four month virtual programme starts this April and will include mentoring and weekly sessions hosted by over 45 different industry experts, including Des Gayle from Fellow Traveller, Nusrat Shah, COO of Exient, and Rami Ismail from Gamedev.world, alongside Payload Studios and residents of the Tentacle Zone community. The programme will include five tracks, co-curated with participants, industry and the incubator's academic partner, University of Greenwich. The various strands of content include business and finance; team building; design, development and production; marketing and PR, and pitching and public speaking.
All participants will be matched with an industry mentor and benefit from peer-to-peer learning and networking. The incubator will culminate with a showcase where the 2022 cohort will present their games and studios to investors, media and the wider industry.
The programme is free for participants and is brought to you by Payload Studios and Exient, with support from Ukie and the University of Greenwich. Participants will be awarded a Continuing Professional Development certificate from the University of Greenwich upon completion.
The key dates are:
● February 10th: Application window opens at Tentacle Zone Incubator
● April 8th: Application window closes.
● End of April 2022: Successful applicants announced and Incubator starts.
● August 2022: Incubator ends with a showcase to industry, partners and media.
---
"Founding a game studio is the most challenging thing I have ever done. Now we at Payload are in the happy position of being able to help new founders start their own journeys, it's incredibly rewarding to see their enthusiasm and commitment pay off, and to be able to contribute something towards the next generation of success stories. The benefits of running this programme again in 2022 are clear - a more equitable, welcoming industry with more diverse games which represent everyone who plays games and wider society."
---
"We're absolutely thrilled to be partnering with the Tentacle Zone Incubator. Our organisations share the same values when it comes to supporting both the next generation of talent and creating an environment in the video games industry where everyone can thrive. We can't wait to meet and support all of the exciting studios and projects that are coming through the Tentacle Zone Incubator in 2022."
---
"The Tentacle Zone incubator gives a fresh cohort of diverse developers access to a huge network of support and peer to peer learning. Making games is difficult and having a good network is so important for devs that are just starting out. I'm delighted to join in as a mentor this year as I love working with developers from different backgrounds because they always have fresh ideas and perspectives that help me grow too."
---
Many of the 2021 cohort will remain part of the 2022 programme, offering advice and peer to peer learning to the new participants.
The 2021 participants said:
---
"2021 was a really big year for me, as I managed to sign a publisher deal for Botany Manor and am now working on it fulltime as creative director. On top of that I was selected for Breakthrough UK by BAFTA. None of this would've been possible without the Tentacle Zone Incubator, as it gave me a wide network of mentoring, legal support and confidence. I learnt that it's always worth putting yourself forward for opportunities!"
---
"Since taking part in the Incubator my knowledge of running a game dev has increased tenfold. Throughout the incubator we were immersed in knowledge from all areas and I have now reached a level where I'm confident to approach and tackle any aspect of running a game dev business. If you are wondering if you should apply my advice would be - say yes to everything and get involved in everything!"
---
"Since completing the programme last year, we've come a long way. We have a stunning vertical slice, got overwhelmingly positive scores when user testing, grew a community on TikTok of 11k followers who are actively engaging with feedback and ideas, we're also talking to publishers who are very interested and we have won three more grants that will support the development of the game.
The incubator sessions with experts were amazing! The way they were set up was extremely efficient. We were able to learn and use the new knowledge and the opportunity to ask questions in relation to our own situation - which made everything more relevant."

---
"The biggest benefit of the incubator for me is the connections I have made with people I probably would never have had the chance to meet. The incubator has helped to bring me a bunch of opportunities I otherwise wouldn't have gotten - from getting published on Humble Monthly, to new work and one of my jam games going viral."
---
Apply to be part of the programme now by clicking here!
You have till until 8th April 2022.