Impact is the joint campaign by Many Cats Studios and Ukie's #RaiseTheGame to showcase and celebrate disabled and neurodiverse people working in the UK games industry
Impact is an annual long term campaign which profiles a cohort of six disabled and neurodiverse UK-based games industry professionals of various levels and specialisms to demonstrate the unique perspectives, input and value they offer the industry over their careers by proudly advocating their identity.
The selected cohort will get a chance to have their voice heard at the forefront of the games industry, with the opportunity to improve the visibility of disabled and neurodiverse people working in the industry through access to professional events, a peer support network, professional photography, and recognition as part of an industry-wide campaign.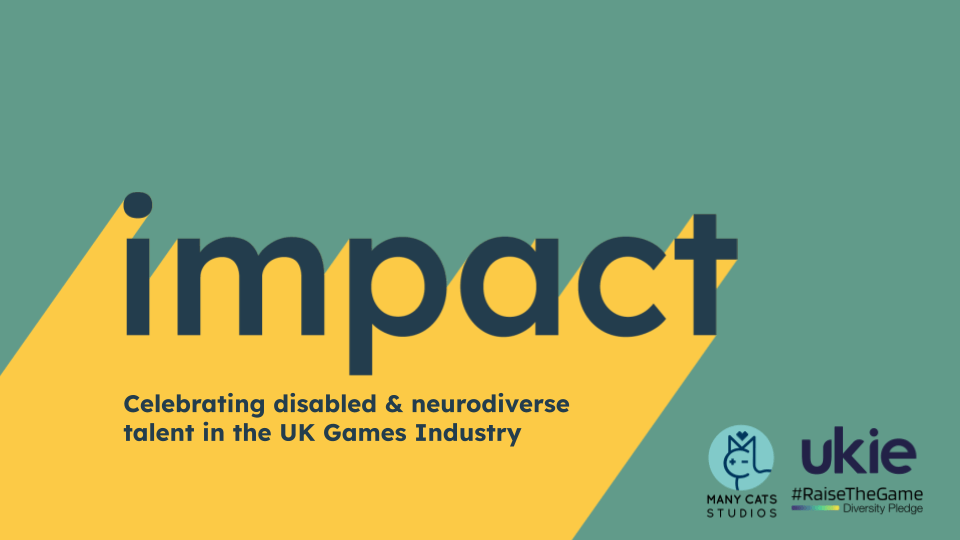 Who is eligible?
To be eligible nominees must be:
Disabled and/or neurodiverse.
Be vocal, visible and open about their disability or neurodiversity.

Working in any games industry role.

Check out our handy FAQ for more information on what we mean by disabled and neurodiverse.
Can I nominate myself?
Absolutely, in fact we encourage it! If you need any help or have any questions about self nomination, please get in touch with Harriet Frayling.
Can I nominate someone else?
You can - we do ask that you to ensure that the person you are nominating has either given you permission to disclose that they have a disability and/or neurodiversity before doing so, or that it is public/well known knowledge.
To nominate yourself or someone you think should be celebrated...
Submit an entry with this form today!
Don't forget to check out Many Cats Studios' Impact Campaign webpage to see what companies and organisations are getting involved.
Why is it needed?​​
21.7% of people in the UK alone have at least one disability.
Disabled people are 29% less likely to be in employment compared to non-disabled people.
Disabled people with severe or specific learning difficulties (26.2%), autism (29.0%), and mental illness or other nervous disorders (30.1%) have employment rates that are lower than disabled people with other impairment types.
Only 4% of the UK games Industry consider themselves disabled, alongside 18% identifying as neurodiverse.
Laws alone are not enough, there needs to be societal change, and the games industry has a role it can play in that.
"Just because discrimination is illegal, doesn't mean it doesn't happen" - GamesIndustry.biz.