Pledge Partner Case Study - King
By The Editor on 22/01/2020
RaiseTheGame is all about collaboration and learning from each other - our pledge partner case studies show how other games businesses are improving diversity and inclusion in their businesses.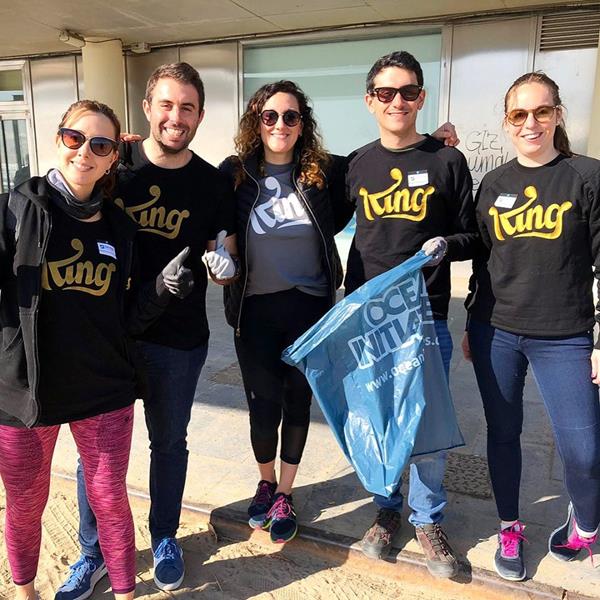 Here's how one of our Founding Pledge Partners, King, are approaching the three pledge pillars:
King is leading the way on building a more equal workforce within the games industry by closing the gender gap. Just two years ago, only 34% of our hires were women. Our President, Humam Sakhnini, set ambitious targets to change that, and in 2019 we sought to make at least 40% of hires female or non-binary. Our effort involved revisiting how to build the pipeline of female candidates, how we sought out talent, and it meant changes to our interviews and assessments. We achieved that target, and we've now set ourselves a new goal: equal hiring in 2020.
Pledge Pillar 1: Creating a diverse workforce
Activity: Achieved our goal for 2019 to reach 40% female or non-binary new hires, as we work toward equal hiring.
How we delivered it:
We worked with many teams to ensure that they were working towards achieving our goal. Our recruiters and hiring managers implemented a targeted range of measures that included:
The utilization of an augmented writing platform to remove gender bias language from our job adverts
Focused talent sourcing efforts to increase the number of females at the top of the funnel
Blind testing
Blind CV reviews
Ensuring diverse interview panels, with the aim that there will be female interviewers in all interview loops
The delivery of unconscious bias training for all King interviewers
Sponsorship and presence in some of the most relevant "Women in Tech" events such as "Women of Silicon Roundabout", "Perspektywy Women in Tech Summit" and "European Women in Tech", as well as other smaller events in our core studio locations.
The facilitation of internal events in our core studio locations in partnership with different Female Tech communities in which we´ve delivered workshops, talks on relevant tech topics as well as networking opportunities.
For new graduates entering the workforce, we are in our 5th year of offering our Games Developer Conference scholarship which takes 15 female or non-binary candidates to the world's largest games event in San Francisco. This programme expanded in 2018 and now includes an internship in one of King's game teams.
Outcome: We achieved our target of 40% female and non-binary new hires in 2019, up from 34% in 2018. Our GDC scholarship has now seen 14 interns converted to full time roles since 2018.
Pledge Pillar 2: Shaping inclusive and welcoming places to work
Activity: Launched and roll out of our Inclusive Leaders Programme
How we delivered it:
We created an immersive experiential workshop that is powerful, practical & interactive, to create a positive shift in behaviours. Our King Leadership team showed their commitment to diversity and inclusive by being the first to complete the programme. We then commenced an intensive first phase rollout with our people managers over six weeks at the end of 2019. We ran the programme in San Francisco, London, Barcelona, Stockholm and Berlin. By end of Q1 2020 all our people managers should have completed the programme.
Outcome: Each people manager who has gone through the programme has made a personal commitment to take specific personal and team actions. These commitments are kept alive by monthly interaction with the D&I Director.
Pledge Pillar 3: Reflecting greater diversity in our work
Activity: Creating the Diversity Space Tool – an interactive guide to enhance the diversity within game design
How we delivered it:
King has created the Diversity Space Tool, which helps our game design teams test our game diversity & inclusion level. We have ensured that all our Games Team have been briefed on the tool and trained to use it. The tool designers have presented it at Games Developer Conference (GDC) in 2019, and the tool will be made freely available via open source in 2020. The tool helps you consider how diverse your game characters are when you are designing or reviewing a game. This tool isn't about setting limitations, it is about creating new possibilities and enabling leading instead of following.
Outcome: Game Teams in King use this tool in the design of our games. Tool will be made available via open source in 2020 so that others can make use of it. King will be awarded the BRIC Founders Impact Award, for the Diversity Space Tool, at the 2020 BRIC Summit.