Key Highlights From Newzoo's Gamer Sentiment Study On Diversity, Equity, and Inclusion
By Minh Tue Le Ngoc, Strategic Project Manager at Newzoo on 31/08/2022
Powered by more than three billion players, gaming is the world's largest entertainment sector. And its audience is as diverse as the world itself — in terms of gender identity, sexual orientation, ethnicity, and people with disabilities. People of all backgrounds and demographics engage with games in some way, shape, or form.
That said, underrepresented groups—including women, ethnic minorities, the LGBTQIA+ community, and people with disabilities—remain overlooked and underserved in many cases. While we have come a long way, there is still more to be done.
To that end, Newzoo has conducted a Gamer Sentiment Study on Diversity, Equity, and Inclusion (Newzoo's DEI Study). The study is already helping some of the biggest game publishers understand behavior, motivation, and sentiment to identify opportunities to make games more inclusive.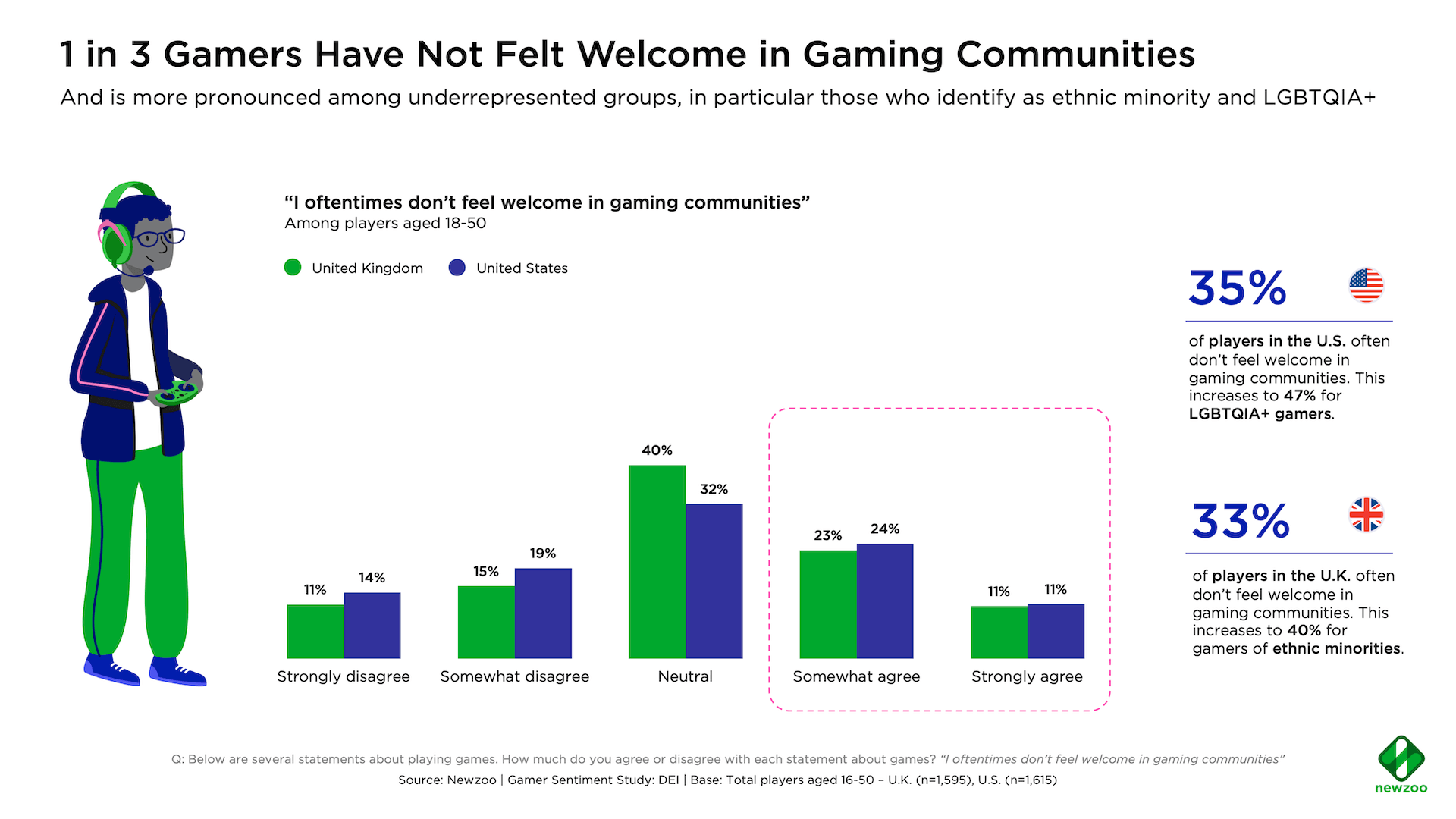 Gamers Are Diverse, and the Games Industry Knows It Needs to Catch Up
According to Newzoo's DEI Study in the United States and the United Kingdom:
In the U.K., 46% of gamers are women, 13% identify as LGBTQIA+, and 29% indicate having a disability (mental-health-related disabilities were most common).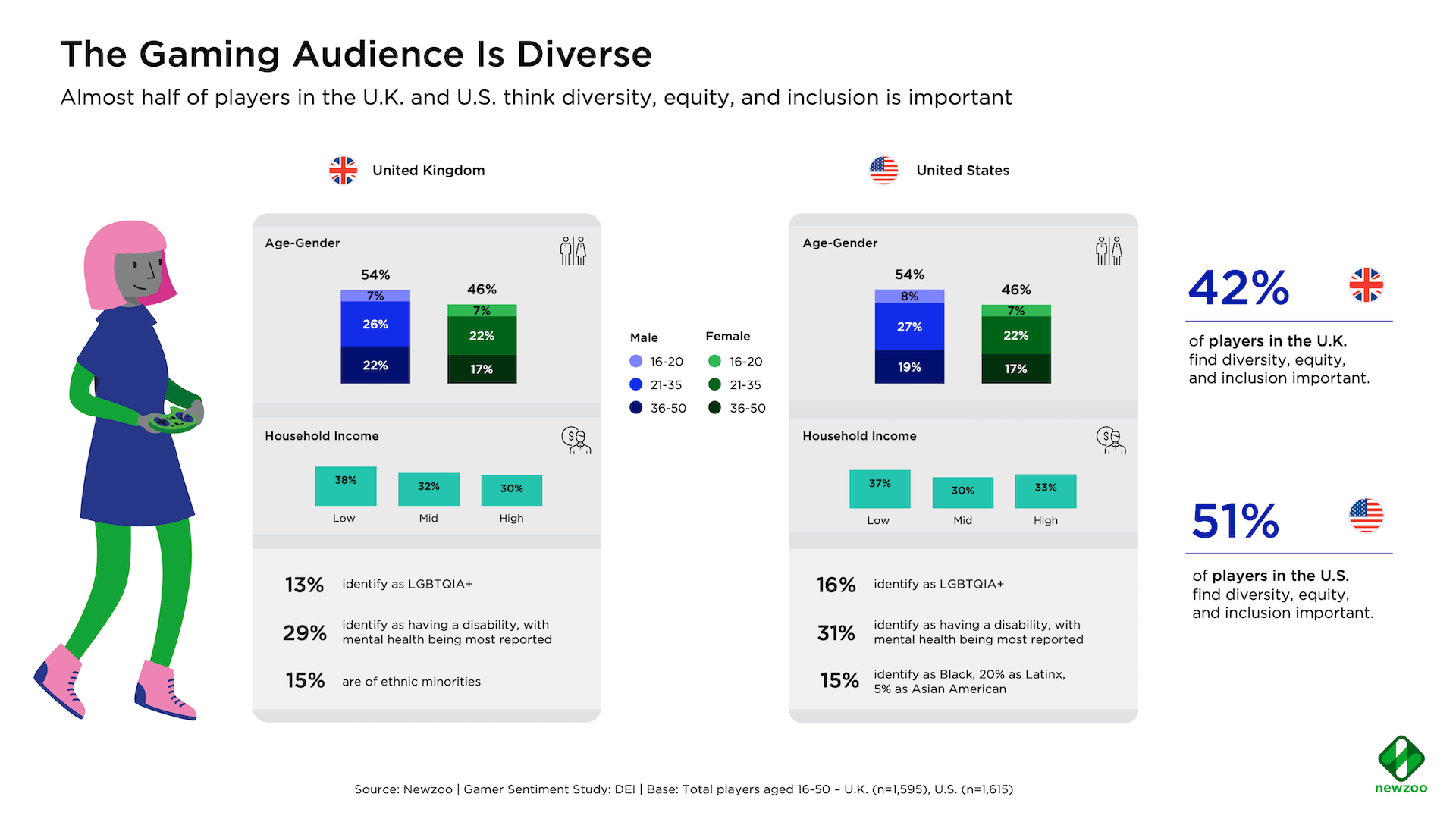 When game publishers and developers hone their focus on diversity, inclusion, and equity, not only do they empower consumers but they can do so while reaching more people with the joy of gaming. Our DEI Study found that 42% of players in the U.K. did not play certain games because they felt like the games weren't made for them. This is a missed opportunity not only for diversity and inclusion but also for revenues. Fortunately, there are many titles, including those from well-established franchises, embracing diversity:
AAA titles from EA in traditionally male-dominated genres, including Apex Legends and Battlefield 2042, now feature more diverse characters in terms of ethnicity, sexuality, and more.
NBA 2K spotlights its first female cover athlete 22 years after its debut.
Queer and LGBTQIA+ representation in AA(A) gaming is also more recognizable, with the main characters in The Last of Us Part II, Tell Me Why, and others falling under these groups.
More diverse, inclusive, and robust character creation tools are also crucial. We found that irrespective of background, many gamers have expressed a desire to be able to fully customize a game character, including a third of U.K.-based players.
All in all, this is an opportunity to make games more appealing to a diverse audience who can express their identity digitally—if they want to.
Gaming Talent and Gamers Want Game Companies to Take a Stance on Various Societal Issues
For content to be diverse, it must be authentic. Companies can foster teams that are diverse, equitable, and inclusive to ensure content is authentic and everybody's voice shines through. Although representation in the industry is gradually improving—and game companies are recognizing the importance of having more diverse workplaces—there is still room for improvement.
There are several initiatives that companies are using—or can use—to improve DEI in their workplace, including:
Investing in learning-and-development programs that foster DEI.
Keeping DEI in mind during talent acquisition.
Tying DEI goals to executive goals and bonuses.
Speaking of executive goals, companies must also ensure their leadership and management teams are diverse. Many companies hire diversely for junior and mid-level positions, thinking their DEI work is done. It isn't. Diversity matters at all levels of a company, including at the top.
What's more, irrespective of gender, ethnicity, sexual orientation, or disability status, gamers find it important that game companies actively take a stance on certain issues, with the greatest importance being placed on issues like health and well-being, followed by social causes and company culture. Examples of such sentiment from respondents in the U.K. include:
---
"I think these are elements of everyone's lives and people would want to know if their beliefs align with the company."
---
"Because I want to support companies that are fair employers and socially conscious. I don't want to buy a game and fund a company with a toxic work environment or actively making other people's lives worse." – Straight Caucasian male, age 26-30.
---
Our research helps game developers and publishers understand the behaviour, motivation, and sentiment of gamers and to identify opportunities to make games more inclusive.
In the end, diversity, equity, and inclusion are vital for the growth of the gaming market. Although there is still much more work to be done, we trust that the top companies in the industry—both large and small—will continue to make the popular pastime a better place for everyone by embracing DEI in their content, policies, and workforces.